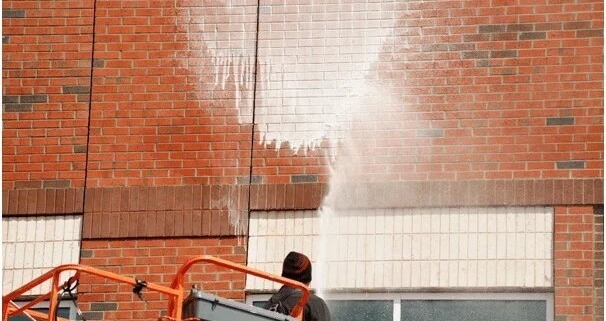 Exterior Commercial Building Cleaning Northern IL
Exterior Commercial Building Cleaning Northern IL
No matter what business you run, first impression matters. Running a business in a building with a well-maintained building speaks volumes to your customers. However, an unkempt commercial building will not have the same effect of creating a positive business image. Most successful businesses invest in the maintenance and cleanliness of their workplace or establishment by hiring a professional for their exterior commercial building cleaning Northern IL.
A shopping mall, a retail store, or any commercial space gets a lot of traffic from customers and walk-in visitors, and therefore, maintaining cleanliness in these spaces is of utmost importance. Hire professionals to clean the facade and exterior of your commercial building regularly to keep it looking just like new!
Whether you need a commercial cleaning company to clean one small storefront or multiple large buildings that your business occupies, you can trust RPW ProWash to help you keep your business premise looking pristine and beautiful.
Our professionals can offer you high-quality commercial building cleaning services tailored to suit your needs and budget. Get in touch with us today to get a personalized quote.
In this article, we are going to share with you some insights about commercial cleaning so that you can learn and discover how your business will benefit from them. That way, you will be in a better position to choose your exterior commercial company wisely.
Keep Your Business Premise Clean Throughout the Day
A professional trusted, and reputable commercial cleaning company can provide you high-quality cleaning services, from window cleaning, carpet, and floor cleaning, to pantry and restroom maintenance.
A great commercial cleaning company uses high-quality, safe, and eco-friendly cleaners or cleaning agents to get rid of all the contaminants found on the walls, floor, and furniture surfaces.
There are cleaners or cleaning agents that are designed for a specific type of surface. Not all commercial cleaning services can neutralize and get rid of algae, mold, and mildew, especially during extreme weather changes. Power washing can be helpful.
Cleaners specifically made for general consumers or commercial purposes are not effective in killing these organisms. So, take time to do your due diligence to determine your potential commercial cleaning professional's skills and training to handle the necessary tools and equipment and right cleaning agents, and deliver excellent results.
A commercial cleaning company also offers other cleaning services, including:
Emergency and Disaster Cleanup

 – These services include water cleanup due to broken water pipes, toilets overflowing, or flooding. You may also hire a commercial cleaning company to offer storm damage cleanup and fire damage cleanups, such as smoke, soot, and water from sprinklers.

Construction Cleanup

 – If the building is under remodeling or expansion, the unsightly construction debris should be cleaned because it may pose a danger to your customers, visitors, and employees.

Janitorial Services

 – Some commercial building cleaning companies also provide cleanup and lighting maintenance.

Outside Services

 – Lawn care, parking lot maintenance, and exterior commercial building cleaning Northern IL.
Increase Productivity
Your employees will be highly motivated to go to work in a clean and organized workplace and business establishment and your customers will pleased and develop a positive first impression when they visit your premises.
Always ensure you clean your carpets before they get soiled, and your office environment should remain pristine. Empty and clean trash bins before they smell. Your employees need a conducive working environment to perform at their best.
You can maintain a clean and healthy workplace for your employees when you hire an experienced and reputable commercial cleaning company, such as RPW ProWash.
You don't want your employees to fall sick due to the spread of diseases in your building, thus hampering their performance, leading to reduced productivity.
Peace of Mind Knowing Our Team Will Take Good Care of Your Business Premise
Take time to find out the number of commercial cleaning jobs a company has handled and completed satisfactorily before hiring. Once you get this crucial information, then you will be better placed to determine the company's experience and the reputation for their provision of services.
But, of course, what matters the most is whether the company can do a very good job and deliver excellent results in terms of their commercial cleaning services.
Ensure that the company you intend to hire has insurance for their employees and the work they do. In that way, you will not carry the burden of medical bills due to injuries that might occur, or incur significant repair or replacement costs if their professionals employ incorrect cleaning techniques that cause damage.
At the very least, their liability insurance should cover damage due to pressure washing or mistakes of the cleaners.
Get Expert Advice
We advise you to plan for annual preventive maintenance of your roof, parking spaces, walls, and flooring, and find a reliable exterior commercial building cleaning Northern IL company to do the job.
You should do so to protect the curb appeal and value of your property. Also, our experts will offer you professional advice while doing the preventive maintenance and they will share with you some tips on how to protect your building from mold, mildew, algae, and dry rot.
During your first consultation, our professionals will give you enough time to ask questions and they will be more than happy to answer them to your satisfaction. You will even get to see our certifications and awards from the industry's respected organizations.
Furthermore, once our in-field team members complete the job, a manager supervising the team will perform service quality checks to ensure you are satisfied.
Practice Proper Waste Management
A professional commercial cleaning service provider will help you to better manage your wastage to comply with local, state, and federal laws. Waste management has become a serious problem and states have created huge public awareness and established strict laws.
By entrusting our experts to help you with proper waste management, you are guaranteed a clean, well-maintained, and serene environment that will attract customers. Also, your business will comply with the environmental laws, and become a good example to the rest.
No Disruption To Your Business Operations
Our cleaners are highly professional and they will find a convenient time for your exterior commercial building cleaning Northern IL to avoid disruption to your normal business activities.
Rest assured that our friendly, courteous, polite, and flexible professionals will do all it takes to keep your commercial building clean and ensure that the interests of your customers and employees are never at stake.
Conclusion
Every business should invest in commercial cleaning services to attract more customers and ensure their success. Working with a dependable commercial cleaning company helps to enhance the health, safety, and productivity of your employees, customers, and visitors, and your business image.
Exterior Commercial Building Cleaning Northern IL
Hire our team of commercial cleaning professionals and you'll avoid the stress and workload of cleaning a business premise so that you can focus on achieving your business goals sooner.
Contact RPW ProWash at (779) 348-3135 or fill out our contact form to get a Free, No-Obligation Quote.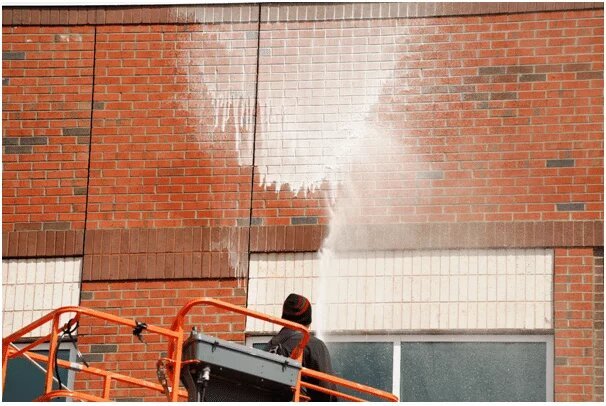 Exterior Commercial Building Cleaning Northern IL
https://rpwprowash.com/wp-content/uploads/2021/06/commercial-1.jpg
406
606
Denise Farley
https://rpwprowash.com/wp-content/uploads/2013/09/pressure-washing-roofs-decks-driveways-homes.png
Denise Farley
2021-06-17 22:47:26
2021-06-17 22:47:26
Exterior Commercial Building Cleaning Northern IL