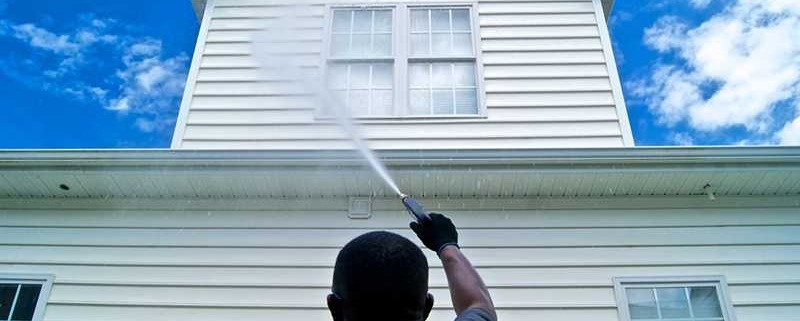 Soft Washing Northern IL
Soft Washing Northern IL: Learn when it is better to soft wash your home instead of pressure washing.
When it comes to keeping the exterior of a home looking its best, pressure washing has been the preferred cleaning method for years now. With that being said, just because it has been the standard for a long time does not mean that it is necessarily the best method of cleaning every exterior surface of your home. In fact, pressure washing can actually end up doing more damage to some surfaces of your home than you might expect. Soft washing Northern IL, however, is an exterior cleaning method that still provides you with the comprehensive cleaning that you would get from pressure washing and all without the risk of causing damage to the exterior of your home in the process. Pressure washers can do damage to more fragile surfaces of your home, like windows and shingles, and pressure washing isn't an effective deterrent against mold, mildew, and algae growth.
Instead of resorting to the brute force of pressure washing to try and get the job done, you could soft wash your siding, roof shingles, deck, paving stones, fence, and driveway without the risk of damage.
Once your home has been treated with a soft wash solution, the surface will be protected against mold, algae, mildew, and more. Soft washing also removes dirt, leaves, and other debris at a surface level.
Keep reading to learn more about how soft washing works and when it is the best option for cleaning the exterior of your home.
Soft Washing and How It Works
Soft washing is a cleaning technique that uses low-pressure water to safely clean the exterior surfaces of a house. This method uses cleaning solutions to effectively kill mold, mildew, moss, bacteria, and other microorganisms. The cleaning solutions are made up of three main ingredients:
Bleach – The primary agent for cleaning and disinfecting surfaces.
Surfactant – This goes in between surfaces to loosen up dirt, mold, and other substances
Water – This is used to dilute the bleach concentration
The process of soft washing is relatively straightforward. It begins with the preparation of the yard and any plants that you want to keep safe. Soft washing involves the use of a powerful chlorine cleaner and surfactant, so you will want to overwater the plants and put a neutralizing agent on the leaves to keep the plants protected while you work.
The soft washing solution is prepared by mixing water, chlorine bleach, and the surfactant to ensure that the solution will cling to the treated surface.
The solution is then loaded into a backpack sprayer and treating the target surface starts. Soft washing can be used to clean dirt and debris from the roof, the siding, or even the driveway, but the real benefit is the fungicidal treatment that kills mold, moss, mildew, and algae. Due to the inclusion of a surfactant, the solution clings to the treated surface and continues to function as a deterrent even after the soft washing is complete.
Due to the use of lower water pressure, soft washing Northern IL is ideal for cleaning the more fragile surfaces of your home's exterior. These surfaces would be damaged if pressure washing is used. So, soft washing is best for the following surfaces:
Roof shingles
Glass doors
Windows
Lanais
Screens
Stucco
Patio enclosures
Vinyl siding
Coquina
Wood panel siding
Cedar shake siding
Outdoor furniture
Tip: After soft washing, it is a good idea to use a plant wash neutralizing agent on any vegetation that is close to the home to ensure that lingering chlorine in the soil will be neutralized before it can harm your plants.
Soft Washing vs. Pressure Washing
There are similarities between soft washing and pressure washing, including the terms used to describe these home maintenance tasks, but there are also significant differences that make soft washing more effective for cleaning biological debris, like mold, moss, mildew, and algae.
Soft Washing
Not powerful enough to damage the home
Uses a low-pressure spray of water, chlorine bleach, and surfactant to eliminate mold, mildew, moss, and algae
Fungicidal effects remain active after soft washing, acting as a deterrent against regrowth
An effective method for cleaning the roof without risk of damage
Not the best option for physically cleaning the exterior of the home
Pressure Washing
Uses a high-pressure mixture of soap and water to physically blast away dirt, dust, and debris
Dangerous to fragile parts of the home, like windows, lights, and gutters
Can remove mold and mildew, but they begin to grow back almost immediately after pressure washing
Powerful spray can cause damage to roofing tiles
Significantly better at cleaning away physical debris
When to Soft Wash Your Home
If you have never soft-washed your home before, then you may not know when it is better to soft wash than it is to pressure wash or when the opposite is true. Pressure washing is one of the best ways to remove tough, stuck-on physical debris, like chipped or peeling paint.
If your home is covered in mud from a recent storm or you want to re-stain the deck, then a pressure washer is the right choice. The powerful spray of water blasts away physical debris, leaving your home clean.
You can also change the tip on the pressure washer nozzle as needed to ensure the water pressure is appropriate for the surface you are cleaning, though in some cases, even the weakest pressure washer strength is still too much.
While pressure washing is ideal for physical debris, soft washing Northern IL is intended to kill any biological growth with a powerful chemical formula. It can be used on the siding to remove algae, on the driveway to kill moss, or even on the roof and in the gutters to get rid of mold and mildew.
Additionally, soft washing is a better option for more fragile surfaces and items, like windows and roof shingles. So, if your home has issues with biological infestations like moss or algae, soft washing is the right option to sanitize and protect the exterior of the home.
5 Surfaces That Are Suitable For Soft Washing
Of all the cleaning methods for the exterior of a home, pressure washing is the most effective and efficient. However, while high-pressure systems are good for hard surfaces such as concrete and metal, they are not always the best option for home exteriors. In fact, pressure washing at high pressure can cause significant damage to stucco, paintwork, render and other coatings.
Soft washing Northern IL involves the use of cleaning solutions and water which are used to clean exterior surfaces at low pressure. In some cases, special detergents are used that kill algae and mold and stop it from reappearing.
Stain removers can also be used to get rid of those more stubborn stains. The most important consideration when choosing a soft washing service is that you choose a company with years of experience using this technique and who can help you to restore the beauty of your sidings, roof, windows, gutters and more.
Let's now take a closer look at the common surfaces that can be cleaned and beautifully refreshed with soft washing.
Stucco
Don't risk high-pressure cleaners damaging your stucco when soft washing will get the same results in a much gentler way. Just like wood, stucco is durable and holds up to the elements, but it simply can't withstand the high impact of pressure washing.
Wooden Sidings
If your home has wooden panel sidings fitted, soft washing can help to keep them looking their best and even prolong their natural life. While wood is one of the most durable housebuilding materials, it can also be damaged by high-pressure washing services.
With soft washing, we can adjust the pressure to match the surface we are cleaning so that we get perfect results every time.
Shingle Roofs
When it comes to washing your roof, soft washing is the best choice. Again, the power of high-pressure washers can easily weaken the roof's adhesion or destroy the shingles completely. High pressure can also force open areas of the roof allowing air and water to enter. Soft washing can be used on any type of roof, including metal or wooden roofing.
Windows and Doors
Windows often have delicate components in their frames which may be damaged by high-pressure washing. This not only impacts the look and operation of your windows but could introduce security vulnerabilities, too. Soft washing can clean both the frames and glass effectively, removing all stains and any areas of mold or mildew.
Wood Decks and Fencing
Most wooden decks and fences are designed to withstand various weather conditions. Many are treated with a special wood preservative that prevents cracking and warping and prolongs the life of the wood.
However, high-pressure washers can cut through these preservatives, exposing untreated wood to the elements. Soft washing, on the other hand, respects the wood, cleans it thoroughly and removes all traces of algae and mold.
To learn more about the many benefits of soft washing Northern IL and how we can help you to preserve the beauty of your home and protect it from the elements and other environmental damage, get in touch with us today.
Soft Washing Northern IL
RPW ProWash is a professional, trusted, and reputable commercial and residential cleaning company with vast experience in the industry. You can count on us to meet all of your cleaning needs.
Call us now at (779) 348-3135 or get in touch with us online to get a FREE, no-obligation estimate.
Soft Washing Northern IL
https://rpwprowash.com/wp-content/uploads/2022/07/house-washing.jpg
507
800
Denise Farley
https://rpwprowash.com/wp-content/uploads/2013/09/pressure-washing-roofs-decks-driveways-homes.png
Denise Farley
2022-07-28 08:45:53
2022-07-28 08:50:36
Soft Washing Northern IL