Driveway Cleaning Service Near Me
Driveway Cleaning Service Near Me
Your driveway is the first thing that your visitors will see when they visit your home, and therefore, it creates the first impression of your home. A clean, well-maintained driveway can make your home attractive and welcoming. But unfortunately, driveways take a lot of abuse and you can see it. Over time, that clean concrete driveway is exposed to various harmful contaminants, including dirt, dust, oil, and rust. If left untreated, these pollutants will damage your driveway and leave your home looking worn down and faded. Don't let this happen to your driveway. Keep your driveway always looking its best with a routine driveway cleaning service near me.
Even if you just moved into a new property or you just repaved your driveway, your driveways will with time show signs of attrition. Vehicles will track mud, dirt, gravel, and pollen onto the surfaces making them look streaked and stained.
While rain may wash away some of this debris and stains, others will remain on the surfaces. Over time, grime will keep building up, entering any cracks and openings in the concrete, pavers and brickwork driveways. Eventually, your driveways will begin to look detract from the tidy and maintained look of your home.
Things like oil spots and other automotive fluids tend to be tough on driveways. They go deep down the driveway's surface. Black marks caused by tires will be seen on the surface. Although you may think that the stains are permanent, in the real sense, they aren't. For such hard-to-clean areas, it is ideal to use a high-pressure cleaning service.
If you're tired of looking at those unsightly dirt, grime, dust, stains and streaks, RPW ProWash can help you to clean them effectively and efficiently to make your driveway beautiful looking its best like new again. We are available for same-day service on your residential/commercial driveway.
Our professional cleaners can help you remove oil spots, tire tracks, mud, and grime on your driveway regularly to keep it clean, beautiful, and well maintained. We use a combination of water and pressure along with eco-friendly cleaning detergents to get rid of the build-up and allow your driveway to look new.
Besides, we also do parking lot and siding cleaning and other exterior surfaces. Our team is fully insured, experienced, and highly trained to deliver superior results so you are guaranteed to be 100% happy with our work.
It is recommended that homeowners clean their concrete driveways at least once a year. Pressure washing is an effective cleaning method that helps prevent premature damage to your driveway. It also helps increase your property's curb appeal and ensure that the landscape of your home looks beautiful and new.
Homeowners looking to sell their house may need to clean the driveways as it helps create a positive first impression on potential buyers.
Call RPW ProWash to restore your driveway to like new condition. Our team will remove built-up dirt and grime from concrete, pavers and brickwork using our professional, top-of-the-line equipment. There's no job too big or small for our driveway cleaning team – we serve both commercial and domestic customers.
Concrete Driveway Cleaning for Residential and Commercial Buildings
Looking at your driveway concrete from a distance, you may think that it is just a solid surface. However, up close, you see there are tiny openings. Concrete is porous meaning that it allows all kinds of contaminants to infiltrate the surface and build up causing stains.
Our driveway cleaning service near me can help restore the look of pavements and other paved surfaces around your residential and commercial building. Our concrete driveway cleaning professionals can help remove those unsightly stubborn stains like paint, oil, and mud. Whether it is the patios or pool decks and tennis courts or walkways, we clean them all.
In addition, we clean your garage floor to restore its great look. Your garage floor, just like the driveway, catches leaking fluids and dirt or other debris and fluids your car tracks in. So, you want to find a professional to get rid of the debris and stains.
How Much PSI Do You Need To Clean A Driveway?
Different materials require different pressure levels. If you're cleaning your decks and the exterior of your home, you will most likely want to use 1500 pressure per square inch or 1500 psi.
If you want to clean concrete driveways, you will need about 3000 psi. So, you require a pressure washer that delivers up to 3000 psi to wash the different surfaces. The pressure can be adjusted according to the type and strength of the surface you're cleaning.
Is It Wrong To Pressure Wash Your Driveway?
It is not wrong to pressure wash your driveway. In fact, some grime and dirt won't come out until you use a pressure washer. However, because the machine releases a lot of force, you must use the right pressure on the material you want to clean. If not used properly or if you don't set the right pressure, you will likely damage the material. That is why you need an experienced cleaning professional to handle the job.
There are different kinds of the mortar used for constructing driveways whether concrete or brick driveways. In concrete driveways, you want to use a pressure washer of not more than 3000 psi. For brick driveways, the mortar has a compressive strength of about 2500 psi meaning you don't want to exceed that point.
Fastest Way To Pressure Wash A Driveway
If you want to pressure wash your driveways fast, you need to ensure that you use a pressure washer to 2500 psi and some detergent to act on grime. For stubborn stains, you can direct the nozzle on specific areas to wash away the stains.
Hiring a driveway cleaning company allows you to do the job even faster with the peace of mind that the job will be done correctly. Pressure washing a driveway is a serious task that needs a proper technique to ensure an excellent job and avoid damage and injuries. Therefore, you should seek the help of a professional.
Driveway Cleaning Service Near Me
At RPW ProWash, we offer reliable, safe, and effective driveway cleaning service near me. Contact us at (779) 348-3135 or online to request a free, no-obligation quote today!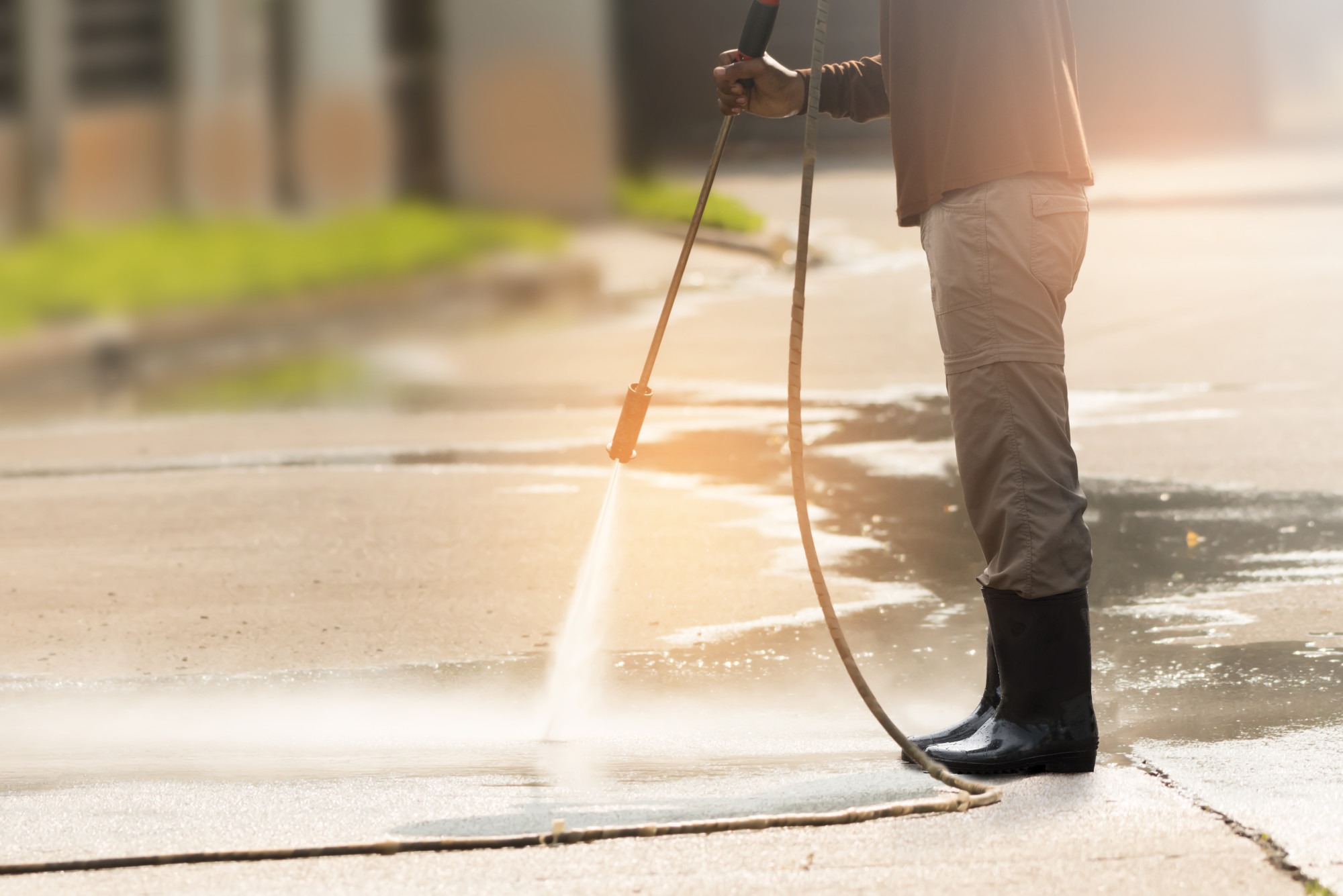 Driveway Cleaning Service Near Me
https://rpwprowash.com/wp-content/uploads/2022/08/pressure-washing-concrete.jpg
1335
2000
WashPro
https://rpwprowash.com/wp-content/uploads/2013/09/pressure-washing-roofs-decks-driveways-homes.png
WashPro
2022-08-09 06:18:31
2022-08-09 06:18:31
Driveway Cleaning Service Near Me