Commercial Exterior Cleaning Services
Commercial Exterior Cleaning Services
You never get a second chance to make a good first impression! That is why the outside of your commercial property or office building needs to send the right message – by looking clean, tidy, and professional. Therefore, it's important to seek commercial exterior cleaning services often for your business. Remember, a good first impression will help influence potential clients before they even step foot in the door, or give a welcoming appearance to your existing customers.
As a business owner, you put in a lot of time and effort to make sure your commercial property/office is looking its best. However, no matter how clean you keep it on the inside, if the outside looks dirty and unkempt, people will assume that it's not taken care of or well-managed. The truth is that first impressions count.
When customers come into your restaurant, cafe, office, store, or other business premises, they form an opinion about your business based solely on what they see from the exterior – before even stepping inside. They then decide whether or not to engage with your business' services or buy your products based on this first impression.
In this article, we will address the key reasons as to why keeping the external environment of your commercial property is important – but also what to look for in a commercial exterior cleaning provider so that you can make an informed choice.
What Is Commercial Exterior Cleaning and Why Do I Need It?
The exterior walls of your commercial building need some pressure washing if it has been cleaned for some time. Not only do they get dirty and dingy over time, but extreme weather conditions can also take their toll on the surface.
The paint then fades quickly before it has a chance to stick around long enough; water seeps into cracks where mold starts growing making them look even less appealing than before!
Worn-out commercial building exteriors are not only unsightly but can weaken the structural integrity of your property. Specialized cleaning techniques, including high-pressure washing and soft washing, are available to restore walls to their original glory so you don't have any more worries about what's going on with them!
How To Find A Good Commercial Exterior Cleaning Company 
Whether it is your store or office space, cleanliness matters a lot. Your workplace reflects the quality of your services. When your customers visit your commercial property, they notice every detail like your relationships with colleagues and most importantly, your work atmosphere.
A neat and clean environment leaves a great impression on your customers. This is the primary reason to not overlook hiring a commercial cleaning for your place of business.
Finding the right company out of so many options can be a daunting task. If you search online for commercial exterior cleaning near me or commercial cleaning services, an extensive list will appear on your screen. Don't let confusion or unclear requirements allow you to choose the wrong one. Let's make it easy for you.
When deciding which company to hire for your Commercial Exterior Cleaning Services, it's important to consider a number of factors. You want to be able to trust your commercial exterior cleaning company and know that they will do a good job that guarantees value for your money.
With so many companies out there, finding the right one can seem overwhelming at times, but it doesn't have to be! Here are some tips to help you hire the right commercial cleaning company.
Set Your Budget
The budget is the first thing that you should decide before seeking commercial exterior cleaning services. Is your budget in line with your realistic expectations? Do you understand the more detailed work and the higher frequency of service the higher the cost will be?
Help Tip: Take estimates from different companies. This will help you to choose the one that is most in line with a fit of the services in addition to the overall cost. The cheapest option doesn't usually mean the best quality and attention that you may require. Also, don't forget to ask other local businesses for commercial cleaning services referrals.
Make an Overview
Whatever company you choose to work with, make sure you know everything about them. What we mean to say is – find all vital information about the company. It includes asking questions about their employee screening, training program, insurance, pricing, services, etc.
Doing this is necessary to ensure whether the cleaning company is the right one to work with. In simple words, make an overview of the company you want to work with.
Liability Insurance
Don't forget to ask about liability insurance from your cleaning company. It helps you to ensure whether something was to be broken or someone was to be injured while onsite, you are covered. Remember, liability insurance does not only protect their employees but your business too.
Are Their Cleaning Services Safe and Hygienic?
It is vital to find out whether the cleaning company you are working with has a safe and hygienic cleaning process. Since cleaning involves working with germs, dust, and dirt, the cleaning practice must be healthy and safe.
Thinking about this is essential because if anything goes wrong, it will directly impact your employees' health and, thus, your business.
Tools and Equipment
It is essential to ask about the tools and equipment the cleaning company uses for their provisions of commercial exterior cleaning services. Prioritize working with cleaning companies that use proper equipment and supplies.
Also, innovative products help to save time and money. And time is money; so, when you save time, you save money.
Bottom Line
A professional exterior cleaning can rejuvenate your business premise. Unfortunately, many businesses wait too long between exterior cleanings.
Exterior cleaning, like any business expense, is a vital investment. A good exterior cleaning makes your commercial building look more professional and attractive. It attracts customers instead of pushing them away. It shows clients you care about details and appearance.
Commercial Exterior Cleaning Services
Does your business premise need pressure washing, window cleaning, or other Commercial Exterior Cleaning Services? Contact RPW ProWash for high-quality, safe, effective, and affordable commercial exterior cleaning services in Rockford, IL.
Call us today at (779) 348-3135 or contact us online for a FREE, no-obligation estimate.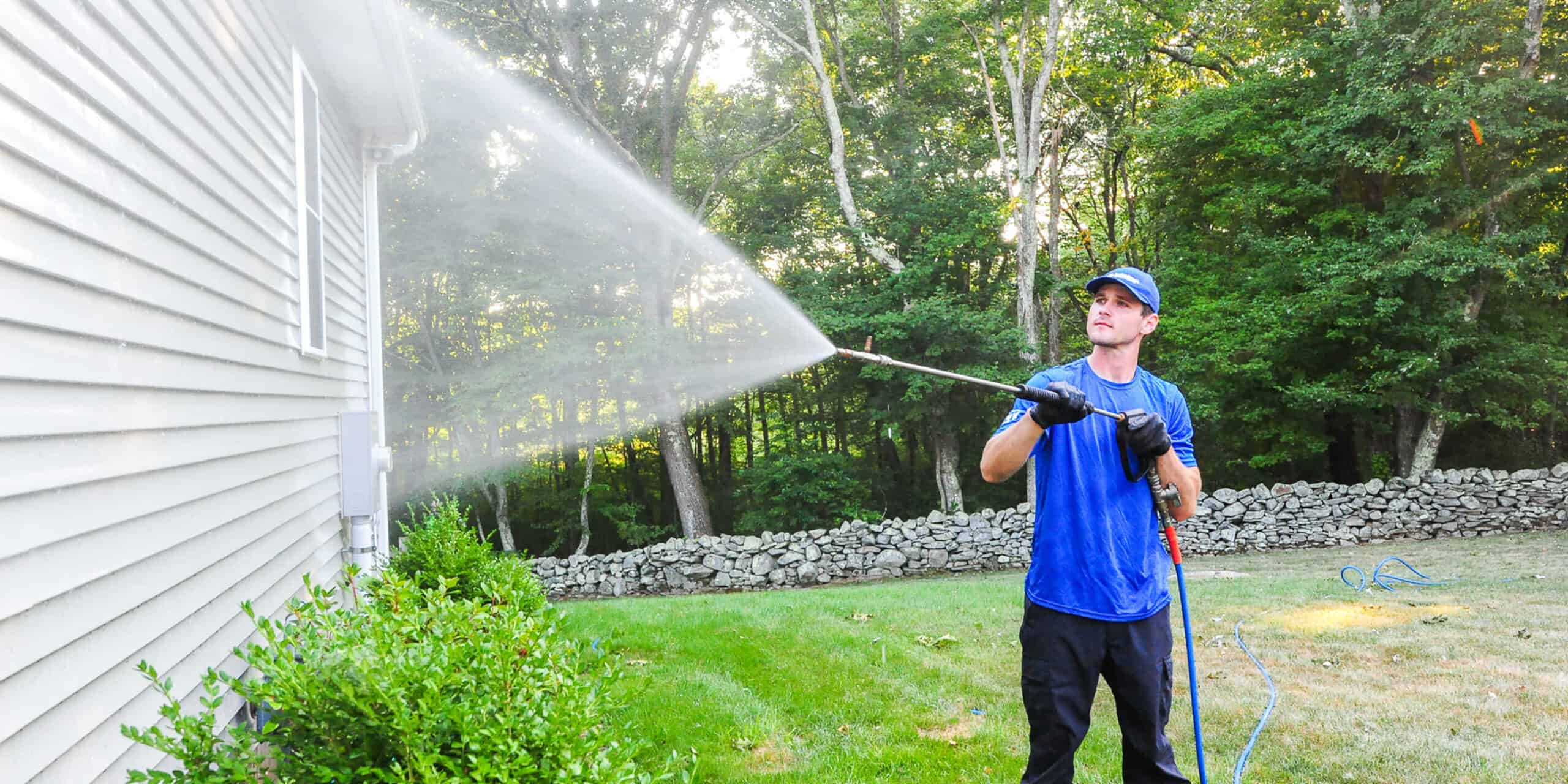 Commercial Exterior Cleaning Services
https://rpwprowash.com/wp-content/uploads/2022/05/z.jpg
1280
2560
Denise Farley
https://rpwprowash.com/wp-content/uploads/2013/09/pressure-washing-roofs-decks-driveways-homes.png
Denise Farley
2022-05-31 23:21:19
2022-05-31 23:21:19
Commercial Exterior Cleaning Services