Commercial Deck Cleaning Services
Decks provide an outdoor living space; they are spaces where we can lounge about in beautiful weather and enjoy spending time socializing with family and friends. However, to make the most of these moments, it is essential you keep your deck clean and well maintained. Therefore, you need to invest in commercial deck cleaning services for your business often to keep your deck functional, safe, and looking its best.
Wooden decks can deteriorate quickly without proper care and regular maintenance. Cleaning, staining, and sealing a deck after pressure washing will add years to its lifespan. Remember, exposure to the great outdoors and general wear and tear mean your deck needs to be maintained and cared for.
Washing and Cleaning Your Deck
A thorough yearly cleaning of your deck is critical to the upkeep of your commercial outdoor space. Letting leaves and dirt sit on your deck for long periods can lead to discoloration and encourage mold and rotting of timber decks.
As a starting point, sweep your deck to remove obvious debris and dirt from the surface. Use a broom or soft-bristled brush, and a deck wash or cleaning solution to scrub your deck's surface – it is important to choose one that is appropriate for your deck.
There is a specialized timber deck cleaner for wood decks, and products tailored specifically for composite decks. Using the right deck cleaner is crucial, as it will not only help wash away muck and build-up but will also kill mold and mildew.
If you still feel your deck needs a more thorough cleaning, an oxygen bleach may be appropriate. Unlike chlorine bleach, these won't remove the natural color from the timber or composite deck and won't damage your plants or garden.
How Do I Maintain a Wooden Deck?
Wooden decks make great outdoor features, but they need to be maintained if you want to keep them beautiful and safe. They take a lot of abuse from regular use, foot traffic, and constant exposure to the elements.
Both sunlight and rain take their toll, which can bend planks, warp wood, or attract pollen and fungal spores that cause further damage.
Regular deck maintenance, pressure washing, staining and sealing, and everyday care make a big difference in your wood deck's lifespan and prevent common deck problems. Whether treating a deck or just keeping it clean, follow these steps to ensure the longest life!
Treat Wooden Deck When It's New
Give your deck the best start for a long life by treating it properly at the beginning. If your deck installer hasn't already made these arrangements, start setting them up now:
Hire commercial deck cleaning services. Have your deck professionally cleaned to kill any mildew spores and remove surface impurities that may prevent deck sealing products from penetrating.
Hire a local deck refinishing professional to stain and seal the deck with a waterproof sealer. Be sure to wait at least 60 days after the wooden deck is built before you do this. Wood needs to "age" first.
Even pressure-treated wood needs to be sealed. The treatment does nothing to protect it from the weather.
How to Maintain a Wood Deck
Deck protection depends on continual maintenance of the surface. Deck sealing is a vital step in maintenance because it protects the wood from rain and dew, which can cause the wood to swell.
Sealing also protects your deck from the sun, which can shrink and dry the wood. Ongoing weather wear and tear can cause wood to crack, cup, warp, and gray.
Give the deck a good scrub as needed. Two rounds of cleaning and rinsing with ordinary soap and warm water will give your deck a nice facelift. If you want to clean your deck with bleach, you can do so, but take care to use oxygen bleach or hydrogen peroxide rather than chlorine bleach, which will destroy your deck sealant.
Every two to three years, hire a professional to clean and reseal it. Treating a deck only lasts a few years. You can do this work yourself, but DIY sealing doesn't tend to last as long. Sealing a deck after pressure washing by a professional is the best way to add years to its life.
Re-stain the deck when necessary. The color will fade over the years, so whenever you reseal the deck, check to see if you need to add more stain. Use an oil-based deck stain rather than a solid one. Oil stains last longer, fade gradually and do not require as much maintenance. If you are trying to decide between painting or staining wood, talk to an expert about the pros and cons.
Deck Maintenance Tips for Everyday Care
Protect your deck regularly with these tips.
Keep it clean. Regularly sweep your deck for leaves and dirt or shovel snow from it. The buildup from dirt, leaves, or snow can damage it in the long term.
Inspect your deck at least once a year. Look for split or decaying wood, excessive wobbling, corroded or missing fasteners, and weak railings.
Always use a grease catcher with a grill. Grease stains are some of the most difficult to remove.
You can fix some deck problems yourself, but make sure you call in a professional rather than get in over your head. A bad job fixing a deck is often worse than no repair at all.
Deck Repair and General Maintenance
Once you have cleaned your deck, it will be easy to inspect it and identify any problem areas. Check for loose, rotten, or split boards. It is essential you repair these, fix them back in place, or replace them with new ones. If not, this can lead to further deterioration of the deck, as the boards may twist and warp.
The professionals you hire to offer commercial deck cleaning services will notify you about the problems they identify so that you can fix them as soon as possible.
As timber ages, it can swell and shrink, causing nails and screws to rise above its surface. If this is the case, simply grab a hammer and nail punch or screwdriver and work them back into place, slightly below the deck's surface.
If possible, replace any rusty screws or nails, as these can lead to discoloration of the deck and may cause the timber to become loose.
Sanding and Sealing Your Deck
Before sealing and after cleaning, let your deck dry then sand it to remove any irregularities and splinters. This allows the sealant to properly sink into and be absorbed by the timber, protecting it. Often when the surface isn't sanded back, the oil will not absorb evenly and it will lead to marks and uneven coloring.
It is important your deck is sealed to stop it from splitting, cracking, and warping; coating your decking boards with a sealer will also help with your deck waterproofing. The appropriate deck stain, deck sealer, or decking oil for your deck will depend on the type of material or decking product you have opted for; consult an expert to find the right sealer to use.
As a rule, protecting with a penetrating sealer will deliver the best results. Deck paint and sealers that remain on the surface tend to fade and peel, quickly making your deck look worn. It's also worth remembering that most composite decks don't require a sealant or staining – so if you are considering replacing decking boards or building a deck, this might be the best option.
Commercial Deck Cleaning Services
Taking the time to clean, repair, and sand and seal your deck annually will quickly have it looking like new, making it a great space for you to spend time year-round and protecting your investment for the long-term.
If you need commercial deck cleaning services in Rockford, IL, contact RPW ProWash today. Feel free to call us at (779) 348-3135 or contact us now online for a FREE, no-obligation estimate.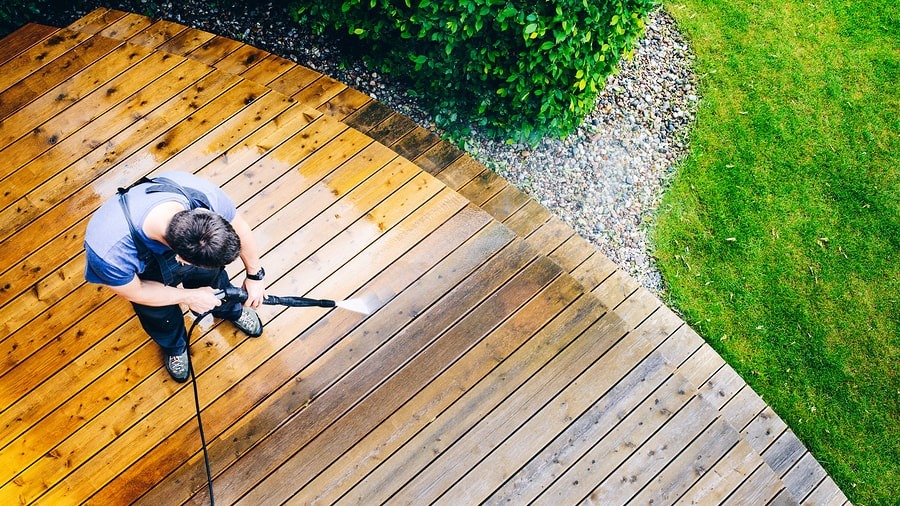 Commercial Deck Cleaning Services
https://rpwprowash.com/wp-content/uploads/2022/05/111.jpg
506
900
Denise Farley
https://rpwprowash.com/wp-content/uploads/2013/09/pressure-washing-roofs-decks-driveways-homes.png
Denise Farley
2022-05-28 07:04:21
2022-05-28 07:04:21
Commercial Deck Cleaning Services