Deck Cleaning Service Northern IL
Deck Cleaning Service Northern IL
A deck is a great addition to your home, and it becomes even more useful during summer when you want to stay outdoors to enjoy the good weather. Whether it is taking morning coffee, outdoor grilling, or having refreshing evening cocktails, your deck provides a perfect outdoor setting for your summer enjoyment. But without proper maintenance, and regular deck cleaning service Northern IL, your deck can look shabby and unappealing, thus, it won't be a good place to have fun with friends and family.
Therefore, a well-maintained, attractive deck can be a good space for holding epic feasts and social events. A deck is a place where you, your friends, and your family can get together for various occasions.
You should ensure that you keep this area of your home clean and in good condition since it is a place where people often congregate. You can always reach out to our deck cleaning team at RPW ProWash when you need a professional for your deck cleaning, staining, and sealing.
Over 25 Years cleaning decks
We have been providing commercial and residential cleaning services for more than 25 years, and over the years, we have gained vast experience and expertise, which enables us to understand what it really takes to do a job the right way to meet customers' satisfaction.
Keeping your deck beautiful is a great way of making good use of the outdoor space in your home to be more functional. People use their decks for various activities, including cooking outdoors, spending time with family, or just relaxing on a nice day.
Unfortunately, since a deck is located outdoor, the elements take a toll on it over time, and therefore, regular cleaning and maintenance will be necessary to restore its appearance and keep it in good condition.
As spring comes to an end, the weather starts to get nicer, and it might be the right time to thoroughly clean your deck to get it ready before summer. Most people opt for just a pressure washer to clean their deck and unfortunately, they end up not getting the desired results due to the resulting damage.
Most homeowners think they can do this job on their own, but they do a poor job that can even lead to significant damage. Hiring a professional to clean your deck has several benefits, including:
Better Results
It is in your interest to get the best results possible whenever you hire someone to clean your deck. While you might do this job yourself, a professional will do a much better job and deliver excellent results.
Our reputable and experienced professionals have the skills, expertise, tools, and equipment to do an excellent job that will exceed your expectations. Having gained vast experience over the years, professionals know the right tools and equipment needed for a deck cleaning job.
You can go to a store to buy or rent a pressure washer, but you might not get all the attachments that professionals use to guarantee high-quality deck cleaning service Northern IL.
Our professionals have different skills set for cleaning different surfaces to avoid causing damage. They use different attachments and techniques to get rid of different types of dirt and grime and deliver the best results on every deck cleaning job.
Less Stress and Hassle for You
Deck cleaning is not an easy job! Due to a lack of the necessary tools and equipment, you could scrub the deck by hand, which will take a lot of time and effort to complete. Alternatively, you could decide to rent a pressure washer, but you might find it difficult to use it, and you may have to spend quite some time trying to figure out how to operate the machine and get started.
Even if you already know how to use a pressure washer or find your way out on how to operate it, you will still face a difficult task getting everything ready for the job, and the cleaning itself will be quite stressful, especially if you are doing it for the first time.
But why not hire a professional, reputable, and experienced deck cleaning company, such as RPW ProWash, and relieve yourself all this stress and hassle, and rest assured that you will get high-quality service. Leave your deck cleaning job to our professionals. You just schedule your cleaning and let them do what they do best.
Prevent Damage
Being a powerful machine, a pressure washer releases water at extreme pressure. While this pressure is vital for the removal of heavy soiling, dirt, and grime that get in between the wood of your deck to ensure perfect cleaning, it must be used with proper care to avoid causing damage.
Our professionals understand how to handle the machine properly at extreme pressure, and the right pressures to be used for different surfaces to avoid potential damage.
With limited experience using a pressure washer, you could likely make mistakes and end up damaging your deck. Hiring a professional to offer deck cleaning service Northern IL means that you are getting the right person for the job who knows all the tools and equipment needed, the attachments, and different techniques to use to ensure proper cleaning while keeping the surface being cleaned free from any damage.
Personal Safety
Your safety is something you don't want to overlook when it comes to deck cleaning, especially using powerful tools and equipment, such as a pressure washer. It is one of the most important considerations before you opt for DIY.
Of course, you can read and follow instructions and safety recommendations on the user manual, but they aren't sufficient to help you handle these extremely dangerous machines properly and safely.
You could easily suffer very serious injuries if you fail to pay attention even for a split second while using a pressure washer. The power of the spray that comes out of the pressure washers varies depending on the type and size of different nozzles used.
In some of the most powerful pressure washers, the water comes out at around 4,000 psi, but even a standard powerful nozzle could still cause injuries. The water released at extreme pressure could go right through clothes and shoes causing lacerations on the skin. You may also suffer bruises, deep tissue injuries, and eye injuries.
Professionals know how to avoid potential injuries because they have the necessary skills, training, and safety equipment. Rather than taking a risk, it's better off hiring a professional to clean your deck and stay safe as you await them to finish the job.
Deck Cleaning Service Northern IL
Hire a professional cleaning company to offer you deck cleaning service Northern IL to save yourself all the trouble associated with your deck cleaning. You can trust our deck cleaning team at RPW ProWash to do a good job for you.
Call us today at (779) 348-3135 or fill out our online contact form to get a free estimate.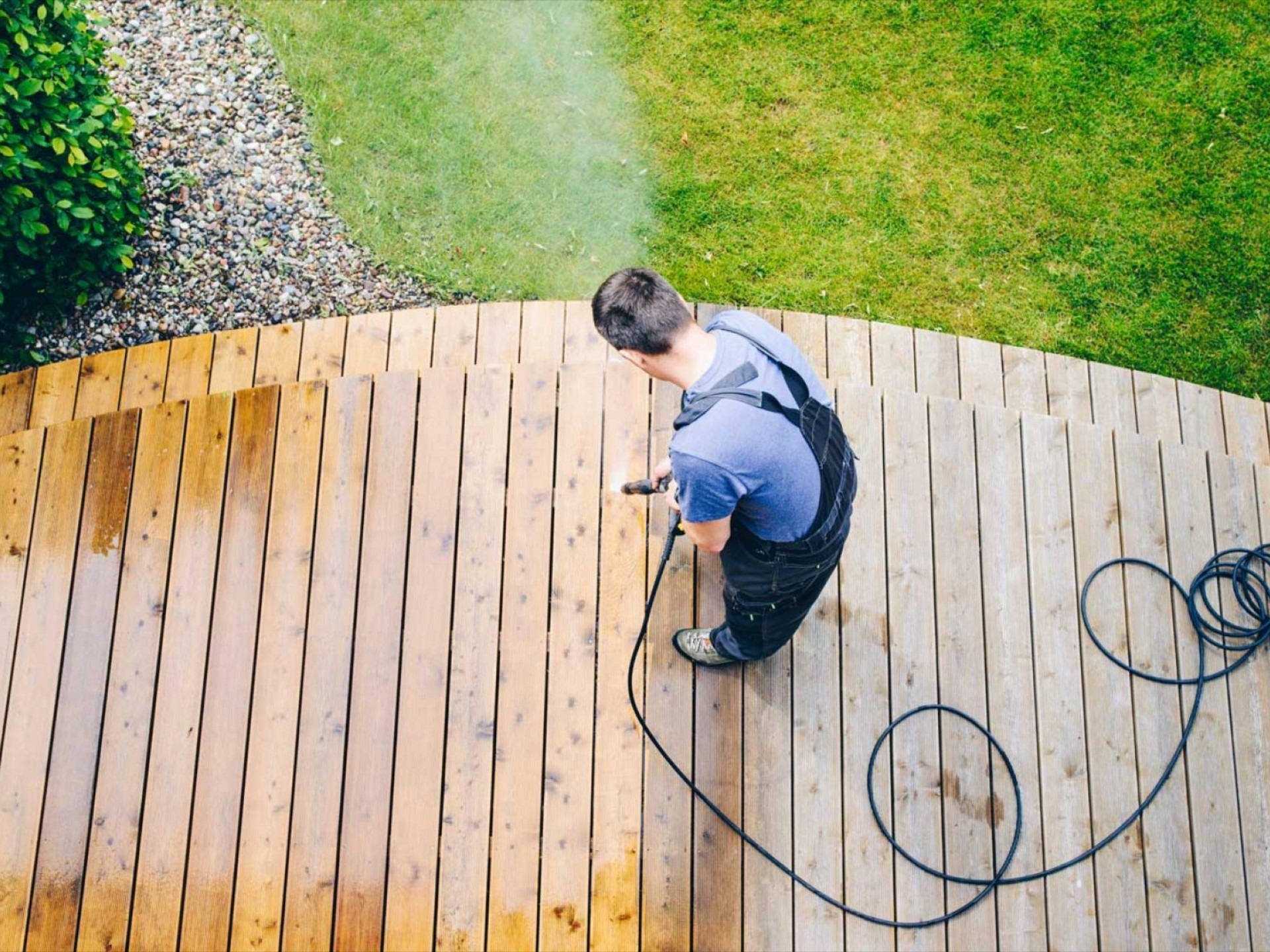 Deck Cleaning Service Northern IL
https://rpwprowash.com/wp-content/uploads/2021/08/deck-cleaning-service.jpg
1440
1920
Denise Farley
https://rpwprowash.com/wp-content/uploads/2013/09/pressure-washing-roofs-decks-driveways-homes.png
Denise Farley
2021-08-04 01:40:52
2021-08-04 01:40:52
Deck Cleaning Service Northern IL