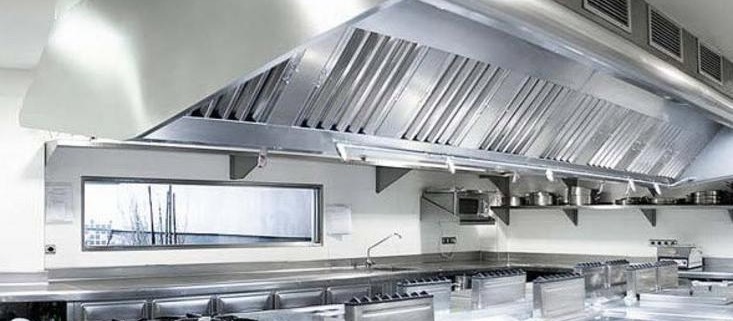 Commercial Hood Cleaning Services Beloit Wisconsin
While no system or process can eliminate the risk of fire in a commercial kitchen, proper commercial kitchen exhaust cleaning eliminates the fuel load and keeps your system maintained such that any fire outbreak can be properly and efficiently contained and extinguished without risking life and property. Our commercial hood cleaning service Beloit Wisconsin ensures that the ventilation system of your commercial kitchen is always in check and functioning properly.
Effect of Grease in Your Kitchen Hood Exhaust Systems
While you're cooking, smoke, heat, and grease-laden vapors are pulled out of your restaurant through your kitchen hood exhaust system. This system directs the vapors into your hood, through your vent hood filters, and into ductwork traveling through your building to the exhaust fan on the roof where it can safely exit your building.
Unfortunately, these vapors contain flammable residue including oil and grease which can provide fuel for fire outbreaks. These fires can quickly spread into the attic and spaces in your building not protected by fire suppression systems, causing catastrophic damage.
Take Measures to Prevent Fires and Improve Safety in Your Kitchen
The great danger of collected flammables is invisible when looking at your hood system from your kitchen. Our professionals from RPW ProWash will make those invisible areas easy for you to see through our perfect photo documentation system.
A shiny hood in a commercial kitchen after cleaning doesn't mean those hard to reach and even harder to see areas have been properly cleaned. At RPW ProWash, we ensure that every area of your system is accessed so you can trust that we will always offer you the high-quality cleaning service that we promise.
We are different from many other service providers in the sense that we pride ourselves on cleaning the entire kitchen exhaust hood system in every service. While most companies may claim to offer the same level of quality, RPW ProWash takes extra steps to ensure that every client is 100% satisfied.
From the initial inspection of your system, we assure our clients a complete commercial hood cleaning service Beloit Wisconsin, including the hood, all of the connecting ductwork, as well as the pollution control unit or fan unit that carries those unwanted vapors out of your kitchen.
Service That Sets Us Apart
Our team of highly trained and certified technicians can clean your entire kitchen exhaust hood system and document our cleaning with photographic evidence to ensure that your exhaust system is properly maintained.
Our professionals will use specialized tools and equipment to measure the level of flammable residue in your systems, and therefore, recommend proper cleaning frequencies. They will report back to you on any potentially hazardous conditions that may compromise the safe operation of your kitchen exhaust system in your facility.
Commercial Hood Cleaning Services Beloit Wisconsin
By choosing RPW ProWash as your exhaust hood system cleaning company, you can be certain you have made the best decision for your business, your employees, and your customers. Keeping a commercial kitchen tidy, clean, and safe shows your customers and staff that you mean business when it comes to quality service and a safe work environment.
Ready to schedule your commercial hood cleaning Beloit Wisconsin? Call us today at (779) 348-3135 or contact us online to get a free, no-obligation quote.
Commercial Hood Cleaning Services Beloit Wisconsin
https://rpwprowash.com/wp-content/uploads/2020/10/Fascinating-Kitchen-Exhaust-Hood-Simple-Interior-Designing-Kitchen-Ideas-with-Kitchen-Exhaust-Hood.jpg
631
733
Denise Farley
https://rpwprowash.com/wp-content/uploads/2013/09/pressure-washing-roofs-decks-driveways-homes.png
Denise Farley
2020-10-26 02:52:10
2020-10-26 02:52:10
Commercial Hood Cleaning Services Beloit Wisconsin