Roof Stain Removal Rockford
How does your house look from the driveway? The roof is usually the most visible part. So, stains and streaks on your beautiful roof steal from the beauty of your home – the pride you take in the appearance of your house. However, do not think of replacing your roof because of those ugly stains! That isn't a sign of deterioration in itself. It is just blue-green algae, morphed into a UV resistant dark color. It is unsightly and detrimental to your roof. Our skilled professionals at RPW ProWash are ready to help you handle your roof stain removal Rockford and make it new again.
The unsightly black or green shingle stains from algae, mold, or mildew should be removed. If left too long, they can eat away at your roof and start compromising its integrity. Cleaning away the algae, mold, or mildew on your roof regularly is essential.
Stains on the roof don't come off easily
Stains on the roof don't come off easily and tend to grow back in quickly. Therefore, the desired result to keep the original color showing forth beautifully becomes quite difficult. You should hire a specialist to deal with the problem for a number of reasons, starting with safety. The weekend projects involving heights make homeowners very prone to falls and injuries. Also, DIY job puts the safety of the roof composition at stake.
Moreover, most roof workers don't really know how to handle roof stain removal Rockford safely and effectively. They might try methods that could compromise the finish on your shingles (whatever type they may be) and easily endanger your roofing.
At RPW ProWash, getting rid of those ugly "black stains" is quite easy with our roof stain removal services. It will help to extend the life of your roof. Due to the beating from the weather, your roof will deteriorate, promoting the growth of algae that causes black streaks, black roof stains, and the appearance of moss.
Roof stains and black streaking can affect all types of shingles, whether you have asphalt shingles, slate, or some other synthetic stone on your roof. Your roof could be completely discolored or have just a few black streaks.
The Lifespan of your roof can be reduced
The lifespan of your roof could reduce drastically due to the algae and black staining, associated with a lack of necessary preventive measures. Hire a professional roof cleaning company, such as RPW ProWash, for your roof stain removal Rockford.
We can't emphasize enough the need to protect your significant investment. When it comes to your roof, it is often possible to overlook regular maintenance. The stains that develop on your roof are not just unknown black streaks. This form of algae grows on the surface of asphalt shingles, eventually eating it away. The damage on your roof shingles can result from another threat of moss.
It can dig and grow beneath the shingles. An upgrade of the buildup from two to three-dimensional quicken roof staining. Our soft wash system restores your roof to its original look. We use an appropriate solution that blends and washes away these harmful growths and gently clean roofs. While our soft wash method might be gentle, it removes tough algae stains, dirt, grime, and bird droppings.
Gentle & Safe Roof Stain Removal Services
Does your roof have ugly, dark stains or streaks? Our certified roof stain removal professionals can get it clean and looking new again.
Here are some of the benefits of having your roof cleaned:
Remove ugly roof stains
Prevent damaging due to the growth of algae, mold, and moss that can eat away your roofing material
Make your roof look like new again
Preserving and Assuring the Life of Your Roof
We recommend an annual treatment plan to keep your newly cleaned roof or your young roof like new for years. In the same way the original protective coating of your aged roof faded away, the protective coating of new roofs will also disappear after a few years.
We will carry out a thorough and comprehensive inspection and retreatment of your roof with zinc every year when you choose our annual treatment program. It will stop any chance of mold, lichen, and algae staining from reappearing or ever appearing in the first place.
Roof Stain Removal Rockford
If you need roof stain removal Rockford service today, contact RPW ProWash. Call us at (779) 348-3135 or fill out our online contact form to receive a free quote.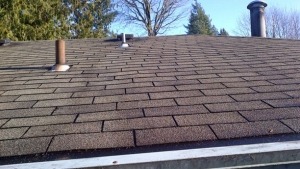 Roof Stain Removal Rockford
https://rpwprowash.com/wp-content/uploads/2020/04/roof_cleaning_shingles.jpg
513
912
Denise Farley
https://rpwprowash.com/wp-content/uploads/2013/09/pressure-washing-roofs-decks-driveways-homes.png
Denise Farley
2020-04-17 02:41:12
2021-05-20 00:36:56
Roof Stain Removal Rockford