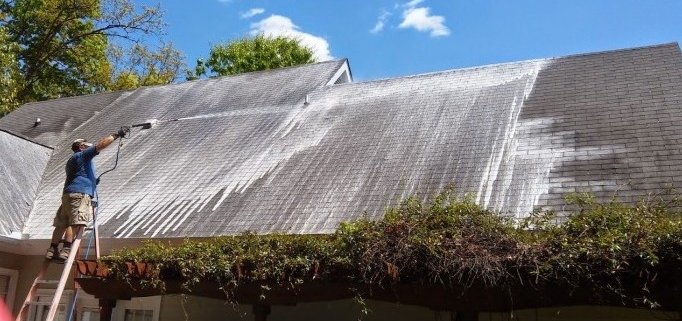 Soft Wash Roof Cleaning
Rockford Soft Wash Roof Cleaning.
The ugly stains, moss and black streaks can potentially shorten the life of your roof. RPW ProWash offers soft wash roof cleaning Rockford that can restore your roof to a like new appearance. The good news is that our cleaning service costs a small fraction of the replacement cost.
A revolutionary pressure washing technique
Soft washing is a revolutionary pressure washing using a gentle technique. The pressure of a full pressure wash cannot be applied on some surfaces, such as:
Asphalt roofs
Wooden surfaces
Antique material
Stained surfaces
Painted surfaces or items
The force used for pressure washing can easily damage all of these fragile surfaces. They can cause significant damage. The good news is that our professional cleaners at RPW ProWash can safely soft wash these surfaces without being damaged.
What Is The Difference Between Soft Washing And Power Or Pressure Washing?
It can be difficult to remove hard surface stains, but pressured water used in power and pressure washing can clean them. Soft washing Rockford is a cleaning method that doesn't use high-velocity water to clean surfaces. The force used in soft washing is a little stronger than the regular water hose. Soft wash roof cleaning Rockford uses environmentally friendly chemicals to remove stains.
Why Choose Soft Wash Roof Cleaning
Soft washing is a popular cleaning method because it offers many benefits, including:
Reduced Chances of Sustaining Damage – Soft washing cleans surfaces without the use of pressured water. The surfaces and items cleaned using this low-pressure cleaning method are preserved and endure less damage than if they were pressure washed.
Delivers Great Results – The eco-friendly chemical cleaning agents used in soft washing makes items and surfaces cleaner than if they're just pressure washed or rinsed.
Cost-Effective – You don't have to pay for hard labor and worry about setup times. With soft wash roof cleaning Rockford, that is a thing of the past. Soft washing doesn't require ladders or scaffolding; therefore you will save a lot of money.
Longevity – You won't see algae, mildew or mold for quite a while because soft washing uses eco-friendly chemical cleaning agents that kill these fungi and bacteria at a molecular level, thus keeping your surfaces cleaner for longer.
How Often Should I Soft Wash My Home?
We enjoy a humid climate in Illinois. Therefore, it means you need to soft wash your home more often than you would if you lived in a place where it wasn't as humid.  Algae, moss, mildew, mold, and other bacteria and fungus grow rapidly in humid climates. At RPW ProWash, we recommend that you soft wash your roof at least 1-2 times per year. Soft washing your home regularly to improve health and keep it in the best condition possible.
Should I Hire A Professional?
If you want to get the desired results in a reasonable amount of time, then hire a professional to soft wash your roof. A professional will clean your home and the surfaces around it correctly and ensure it doesn't sustain any damage.
Soft Wash Roof Cleaning
Not everyone has the knowledge, skill, and technique for soft washing. You can easily make a costly mistake and trying a DIY soft washing project might cause significant damage that may be difficult to repair.
Hire professionals from RPW ProWash to do your Soft Wash Roof Cleaning and cut out all of the guesswork.
Call us today at (779) 348-3135 or use our contact form to request a free quote!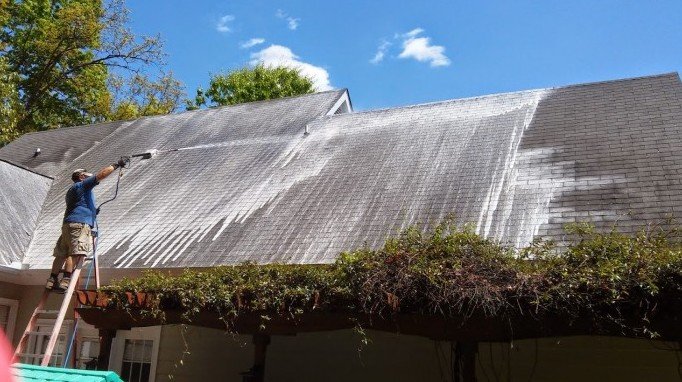 SOFT WASH ROOF CLEANING
https://rpwprowash.com/wp-content/uploads/2019/04/Soft-wash-roof-cleaning-e1444930758598.jpg
382
682
Denise Farley
https://rpwprowash.com/wp-content/uploads/2013/09/pressure-washing-roofs-decks-driveways-homes.png
Denise Farley
2019-04-30 23:08:03
2021-05-20 00:42:10
Soft Wash Roof Cleaning