Concrete Floor Cleaning Service
Like all other flooring surfaces, concrete floors become dull and dirty over time. Thankfully, a professional concrete floor cleaning service by RPW ProWash can bring new life to concrete floors! Our deep concrete cleaning process removes the toughest dirt safely and effectively. Your floors will be rejuvenated when professionally maintained.
Concrete floors are known for their durability as well as their easy maintenance. Whether you chose to have concrete floors at your business for their versatility and style or you own a shop or a warehouse that requires them, there is no question that this low-cost type of flooring is appealing for many business owners.
But just because concrete floors are fairly durable and have low maintenance does not mean that they don't need to be professionally deep cleaned just as hardwood floors and carpets do.
Concrete is highly absorbent and if you work with a lot of chemicals, these—as well as dirt, oil, dust, and other airborne pathogens—can absorb into the floors and cause the air in your business to be potentially hazardous for you and your employees.
We know that the health and safety of your customers and employees is of utmost importance to you, which is why we offer commercial concrete floor cleaning service that will get rid of any unsightly stains and improve the air quality inside your building.
Benefits of Polished Concrete Floors
As polished concrete continues to grow in popularity, you may be wondering what benefits you will gain from having this unique, versatile finish in your commercial or residential property.
So, why are polished concrete floors desirable in so many commercial spaces, warehouses, and even homes? People have discovered polished concrete floors offer a whole host of benefits. In looking at the pros and cons of polished concrete floors, it is easy to see polished concrete has far more advantages than disadvantages.
The only notable downside to concrete has to do with the way it may feel walking on it. For one, concrete is hard and doesn't give underfoot, so it may not be comfortable to stand on for long periods.
Of course, this hardness can be an advantage when it comes to durability and strength. You can also compensate for any discomfort by adding mats to areas where customers and employees may stand for long stretches.
Concrete can also feel cold at times. This concern occurs more often in a residential space where people may be barefoot but isn't much of an issue with commercial or industrial concrete flooring. The good news is that polished concrete floors are excellent thermal conductors, so a radiant floor heating system can keep the floor warm for bare feet.
Now, let's look at some of the key benefits of polished concrete floors.
Highly durable
Probably the most obvious benefit of getting a polished concrete floor is how incredibly durable they are. This makes it ideal for areas with high foot traffic such as restaurants, cafes, bars, shops, and sports facilities.
But it is not just commercial spaces that can make the most from this robust flooring. Polished concrete floors in kitchens, bathrooms, and utility rooms can also benefit from having a scratch and chip-proof flooring solution.
Polished concrete's durability is second to none for manufacturing and warehousing facilities. Polished concrete flooring is solid, and can stand up to heavy foot traffic or even heavy equipment in a warehouse.
It is almost impossible to chip, scratch, or otherwise damage polished concrete floors. Sealed polished concrete floors are also resistant to chemicals like alkalis and acids that could cause corrosion.
Lasting
Polished concrete floors are sturdy. In many cases, a properly installed and well-maintained polished concrete floor can still last over a century, even if it stands up to a lot of wear and tear! Flooring materials like vinyl, wood laminates, and carpeting can't compete with this lifespan.
Saves money
Polished concrete floors are cost-effective in a number of interesting ways. For example, by using reflectivity to improve ambient lighting, it can significantly decrease your energy and maintenance costs.
It is also able to hold onto heat using natural warmth radiating through your windows, and cools rooms when it gets too hot. And if that wasn't enough, its incredible durability means you won't need to replace your floor any time soon.
Easy to clean
With no cracks or crevasses for dirt to get stuck in, polished concrete is super easy to clean, making it great for those living busy lives. You won't need to seek professional concrete floor cleaning service more often unlike other types of floors.
Low-maintenance
If you are tired of endlessly cleaning your floor, you will be relieved to know that polished concrete floors are one of the easiest flooring types to maintain. Unlike tile and linoleum, which require aggressive scrubbing, polished concrete only requires normal sweeping and the occasional damp mopping to preserve the gloss.
Polished concrete floors are easy to maintain so they don't require you to periodically strip the surface and apply wax or other coatings like many other flooring types do. They are even easy to clean. They don't hold onto dirt or dust like other floors do and only require occasional mopping.
Underfloor heating
Concrete floors are a great option if you are looking to install underfloor heating. This is because it conducts heat very effectively due to high thermal mass. You will therefore be able to enjoy the comfort of quick heat-up times, whilst making use of the floor's natural ability to store solar heat.
Affordable
Despite polished concrete's high-end appearance, the reality is that it is more affordable than most other flooring options. Not only is the initial cost per square foot similar to other inexpensive options like carpet, but the whole lifecycle cost is lower than any other popular types of flooring.
It is particularly affordable if you already have a concrete slab you can get professionally polished.
Environmentally friendly
Because polished concrete floors don't involve the use of hazardous chemical coatings, cleaners, or adhesives in their installation or upkeep, they are an eco-friendly option. These floors are also energy-efficient, which further adds to their reputation as a "green" flooring choice.
Healthy
Polished concrete is sealed and, therefore, stays dry. Because it is smooth and nonporous, it doesn't allow allergens, dirt, and bacteria to collect in any crevices.
Unlike hardwood and carpeting, polished concrete also does not contain any harmful volatile organic compounds. All these factors make for improved air quality.
Non-slip
Some people may be worried about the slipperiness of polished concrete after cleaning since it's so smooth. If safety is a concern, a non-slip epoxy coating can add the right amount of texture to the surface of the concrete to prevent people from slipping on the surface.
With the proper coating, a polished concrete floor can be perfectly safe even after a professional concrete floor cleaning service.
Reflective
Polished concrete floors with a high-gloss finish are incredibly reflective. Not only do they look sleek and luxurious, but they can also help introduce more light into your space.
These floors can cut down on the amount of artificial light you need to use, resulting in a lower electric bill. More light can significantly enhance the ambiance in a space.
Customizable
You may have a specific mental picture of what polished concrete floors look like, but the options are endless when it comes to the final look of a polished concrete floor.
Not only can you select various levels of shine, but you can also choose from multiple aggregates, colors, and patterns. You can even personalize the floor with a decorative engraving or graphic.
With so many benefits, it should be easy to see why polished concrete floors are becoming increasingly popular. Whether you want warehouse polished concrete for its ability to hold up to heavy equipment or a commercial polished concrete floor for its unique combination of affordability and aesthetics, this versatile flooring option won't disappoint.
Achieve Maximum Durability with Minimal Effort!
Polished concrete, which is already a favored option for many commercial properties, is rapidly being seen in many homes. It provides a minimalist and sleek design whilst offering a range of cost-saving and maintenance benefits.
Concrete Floor Cleaning Service
Are you looking for style, exclusiveness, and long-term endurance for your commercial or private living area? Go for polished concrete floors to achieve maximum durability with minimal effort. And once you have installed them, you can contact RPW ProWash to get a professional concrete floor cleaning service whenever you need it.
You can call us at (779) 348-3135, or contact us here today to get your FREE, no-obligation quote.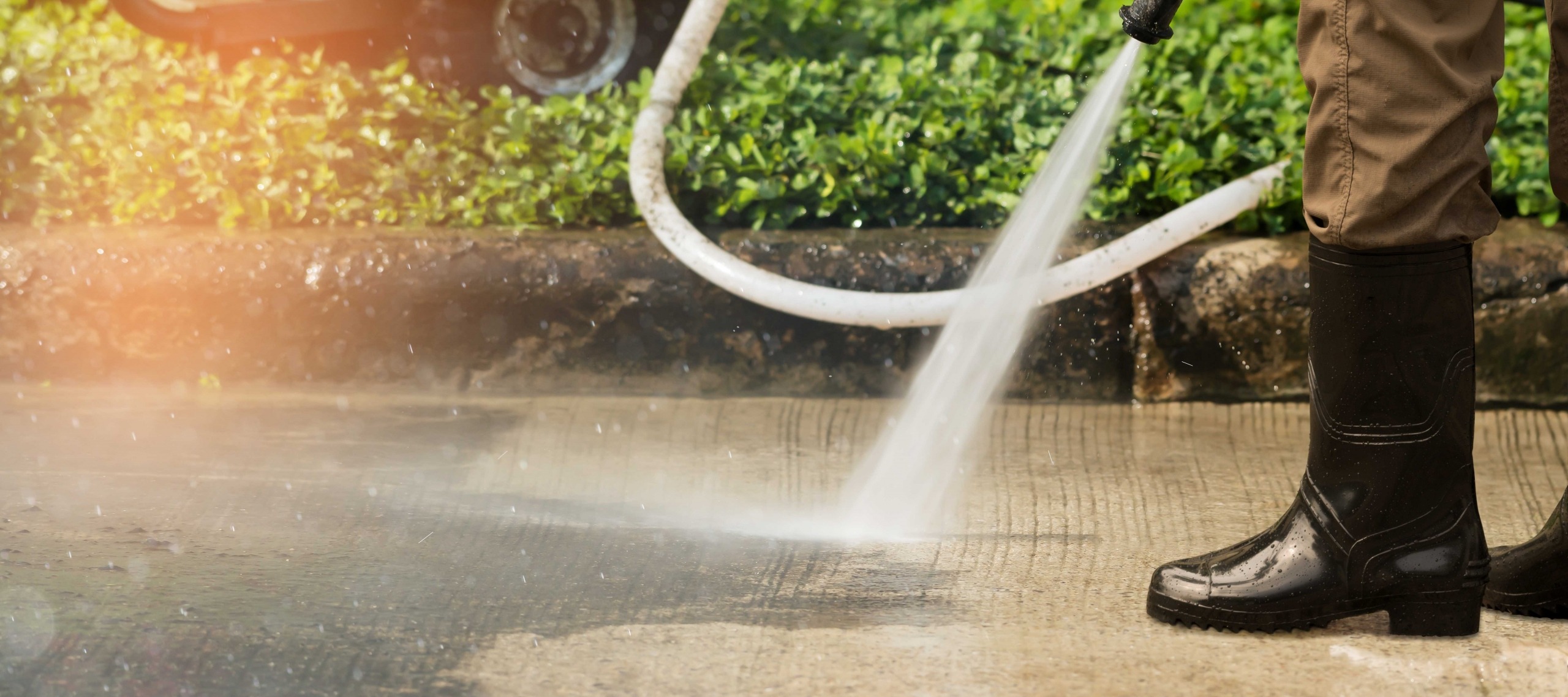 Concrete Floor Cleaning Service
https://rpwprowash.com/wp-content/uploads/2022/04/Pressure-Washing-Concrete-Floor-Cleaning-Services-Springfield-Missouri-scaled.jpg
1138
2560
Denise Farley
https://rpwprowash.com/wp-content/uploads/2013/09/pressure-washing-roofs-decks-driveways-homes.png
Denise Farley
2022-04-05 00:45:31
2022-04-04 16:45:52
Concrete Floor Cleaning Service